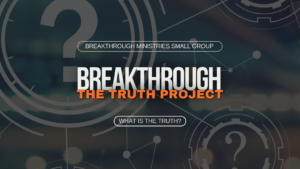 Breakthrough Ministries is excited to announce an enriching and transformative experience for all who seek to deepen their understanding of faith and life's fundamental truths. We are hosting The Truth Project by Del Tackett as a weekly small group, and we invite you to embark on this illuminating journey with us. The Truth Project is a compelling multimedia series that delves into the foundational principles of a Christian worldview. Each week, we'll explore one episode, followed by thoughtful and engaging discussions.
The Truth Project explores critical topics such as ethics, morality, the existence of God, and the nature of truth itself. Through captivating video presentations and thought-provoking discussions, participants will gain a deeper appreciation of how these foundational truths shape our lives and the world around us. It's an opportunity to not only strengthen your faith but also to discover how to apply these principles to your everyday life. The impact of The Truth Project goes beyond mere knowledge; it can transform your perspective, strengthen your beliefs, and inspire a more authentic and purpose-driven life.
But that's not all! After completing The Truth Project, we're excited to announce that we'll dive into its sequel, The Engagement Project. This next phase will empower participants to take the truths they've learned and actively engage with the world around them, making a positive difference in their communities and beyond. We invite you to join us on this incredible journey of exploration, discovery, and engagement as we grow together in our faith and understanding. Stay tuned for more details on The Engagement Project as we pursue truth and meaningful impact.
Sign-up Coming Soon!